Adornments are something, each lady wants to wear– Necklaces being one of them. A thread necklace is a style of necklace and is loved by women everywhere. They can be made of metal, beads, silk threads and pretty much any other moldable material.
The following list of 21 trendy thread necklace designs would assist you with choosing the best thread necklaces among the best ones. Read till the end, we have also details where you can shop them from.
1)  Two Layer Thread Necklace
Layered necklaces are totally in these days. The two layer thread necklace with metal spikes attached below give it a good look. The necklace can be paired with any type of outfit and will offer you a stunning look.
2) Four Layer Choker Thread Necklace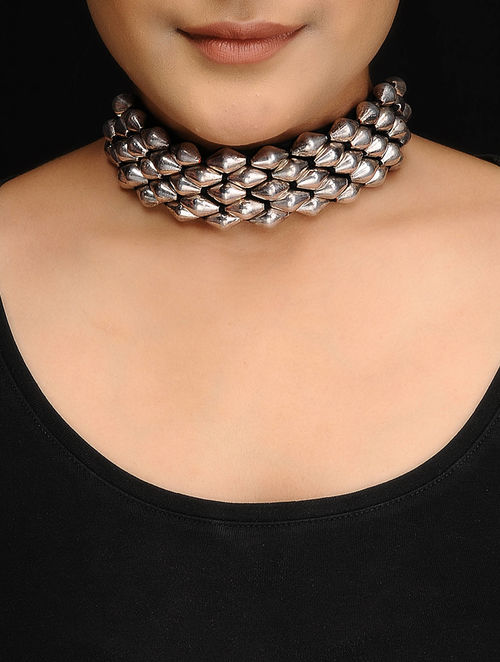 Choker necklaces have a great demand in Bollywood and other glamorous events. This style has been there for years and still keeps making its place in the closet of ladies.
3) Medium Length Antique Thread Necklace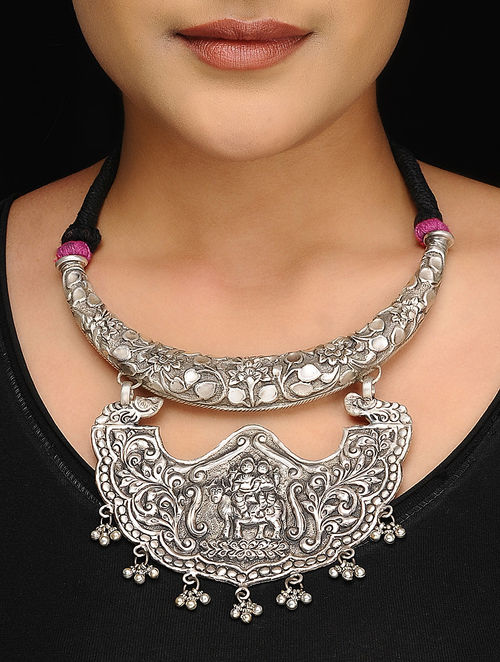 The medium length antique thread necklace worn with even a basic outfit would provide any woman with a desire to have it in her cabinet.
4) Floral Tribal Thread Necklace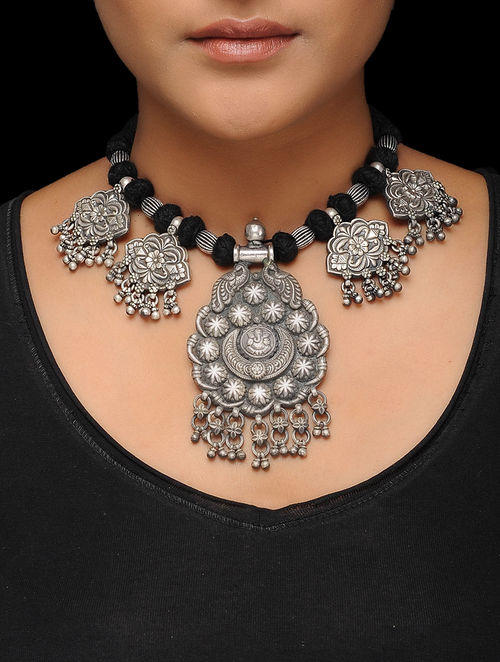 Floral tribal thread necklaces are vital and versatile fashion accessories for every stylish woman. There are many reasons for you to own tribal necklaces. They will instantly add charisma to any casual or informal outfit. They bring people's attention on the beautiful neckline of your outfit.
5) Mango Thread Necklace
Fashion keeps going away and coming back. The mango thread necklace resembles one of those worn in the 80's by renowned actresses. The thread necklace is designed in a stylish way with mango designs and would looks great with any type of attire.
6) Colorful Threaded Ball Necklace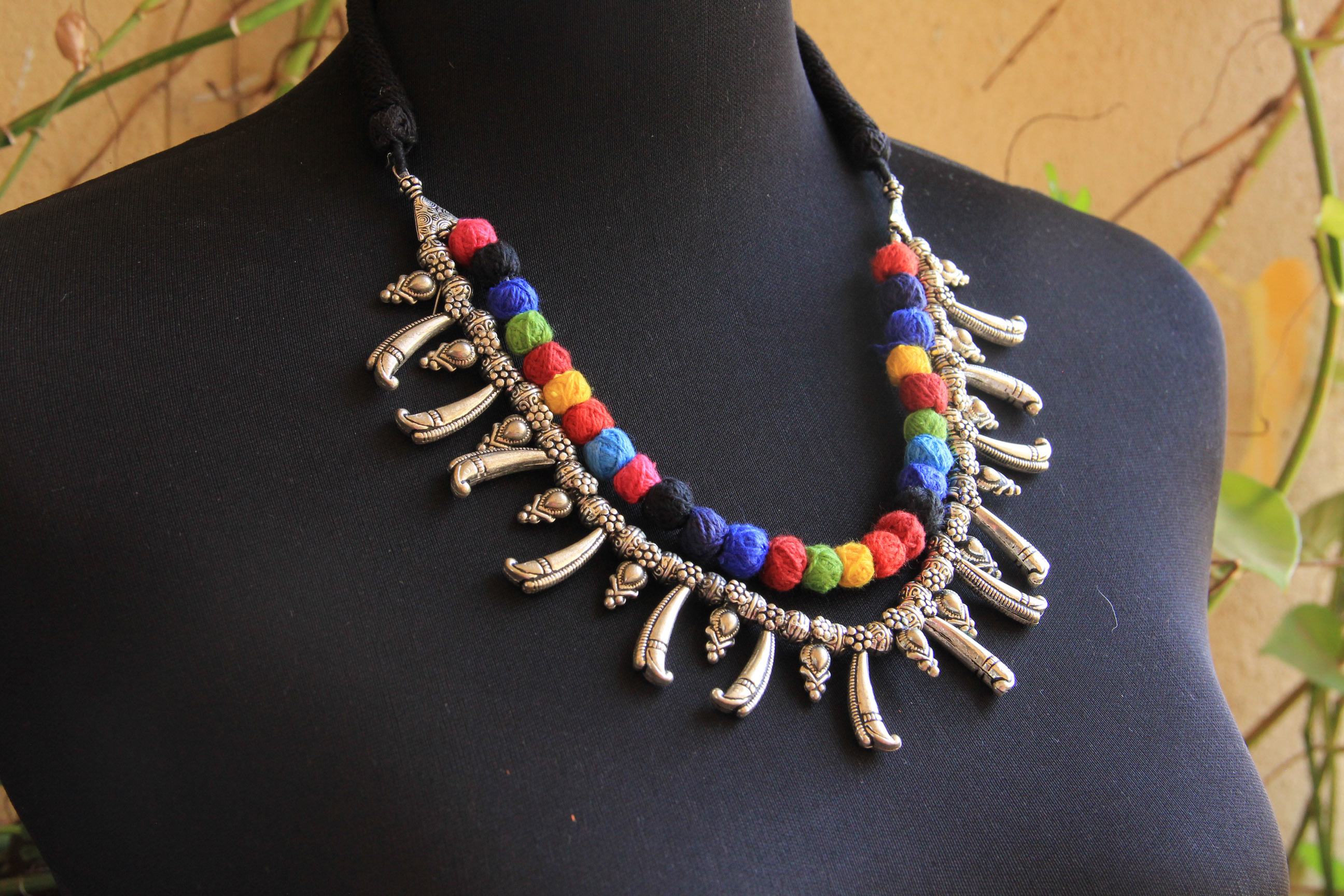 This colorful threaded ball necklace is nothing less than stunning and you will find excuses to wear it as much after buying this necklace!
7) Multi Color German Silver Thread Necklace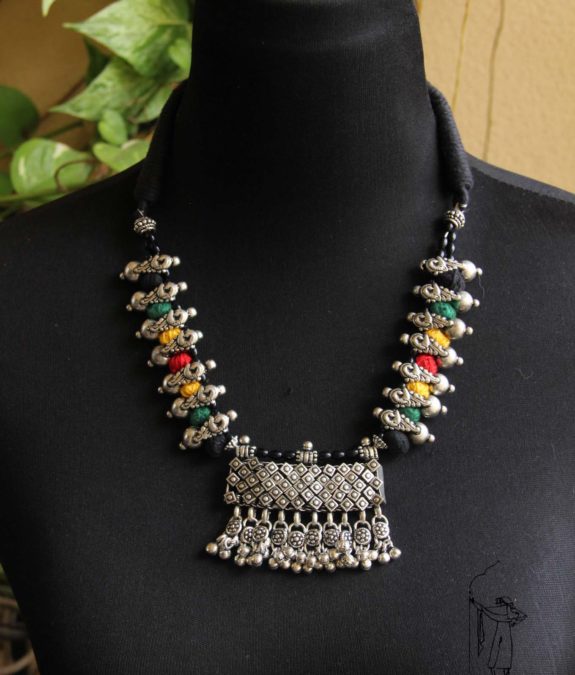 This multi color german silver thread necklace offers you one of the best options for attending any party or function. The colorful design looks like the most beautiful ornament and also the most visible one to the people.
8) Rust Orange Thread Necklace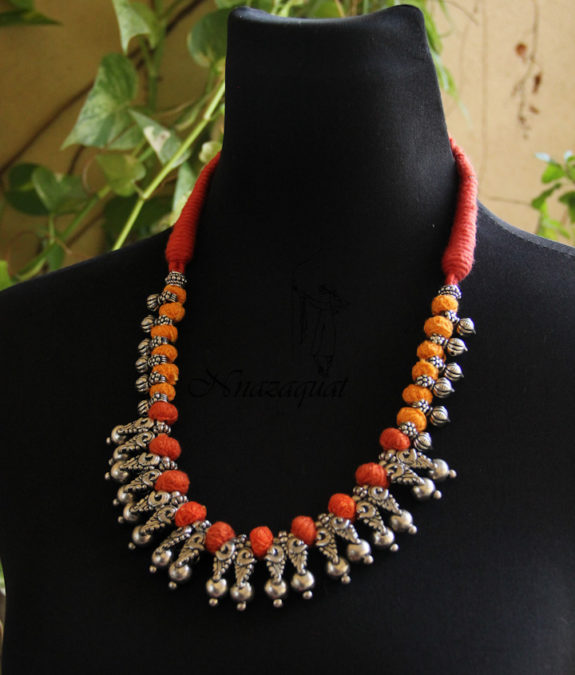 The rust orange thread in the necklace gives it a wonderful look. A blend of creativeness and art together with the 2 different shapes attached to the thread is a must buy.
9) Coin Thread Necklace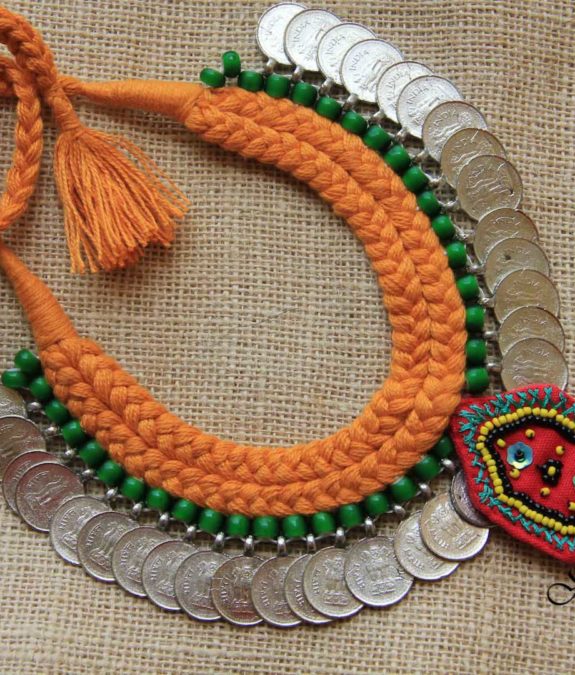 This coin thread necklace is one of those which would add sass to your persona as you wear it. Even if you wear any plain outfit, the necklace would give you a chic appearance and add to your style quotient.
10) Beaded Thread Necklace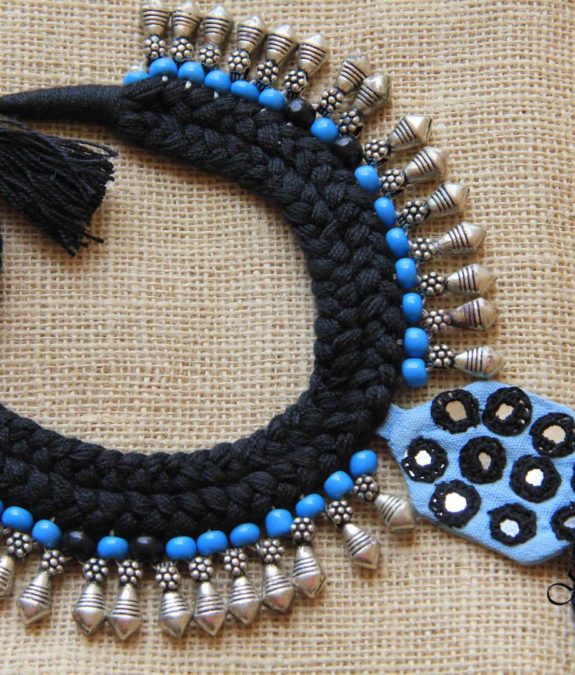 An eye-catching piece of beaded thread necklace worn around the neck is sure to provide you an elegant look whether you wear it casually or at a function. This necklace is sure to add to your natural beauty.
11) Thread Necklace With Tribal Pendant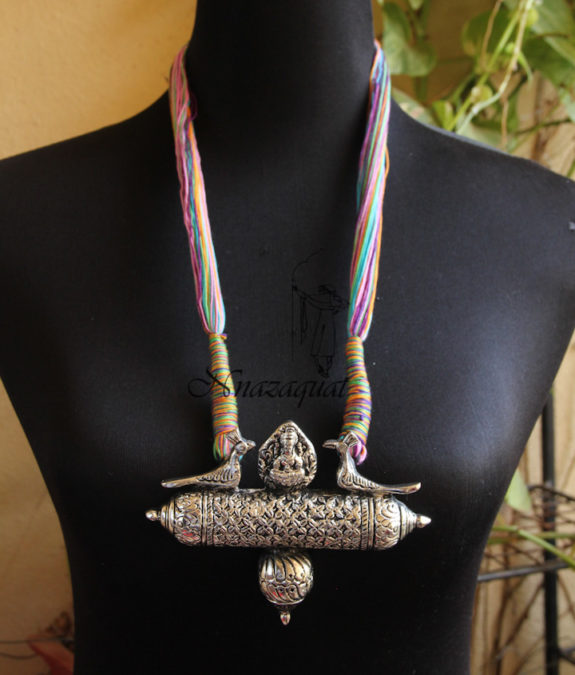 It is a thread necklace designed necklace with a tribal pendant coming down till your chest. This would give you an attractive appearance and this is something every woman will love to own.
12) Elephant Thread Necklace
This necklace would make any lady buy this right away. This thread necklace with a big elephant in between as the pendant and 2 on the sides is a chic-looking design.
13) Thread Necklace With Ruby Studded Motifs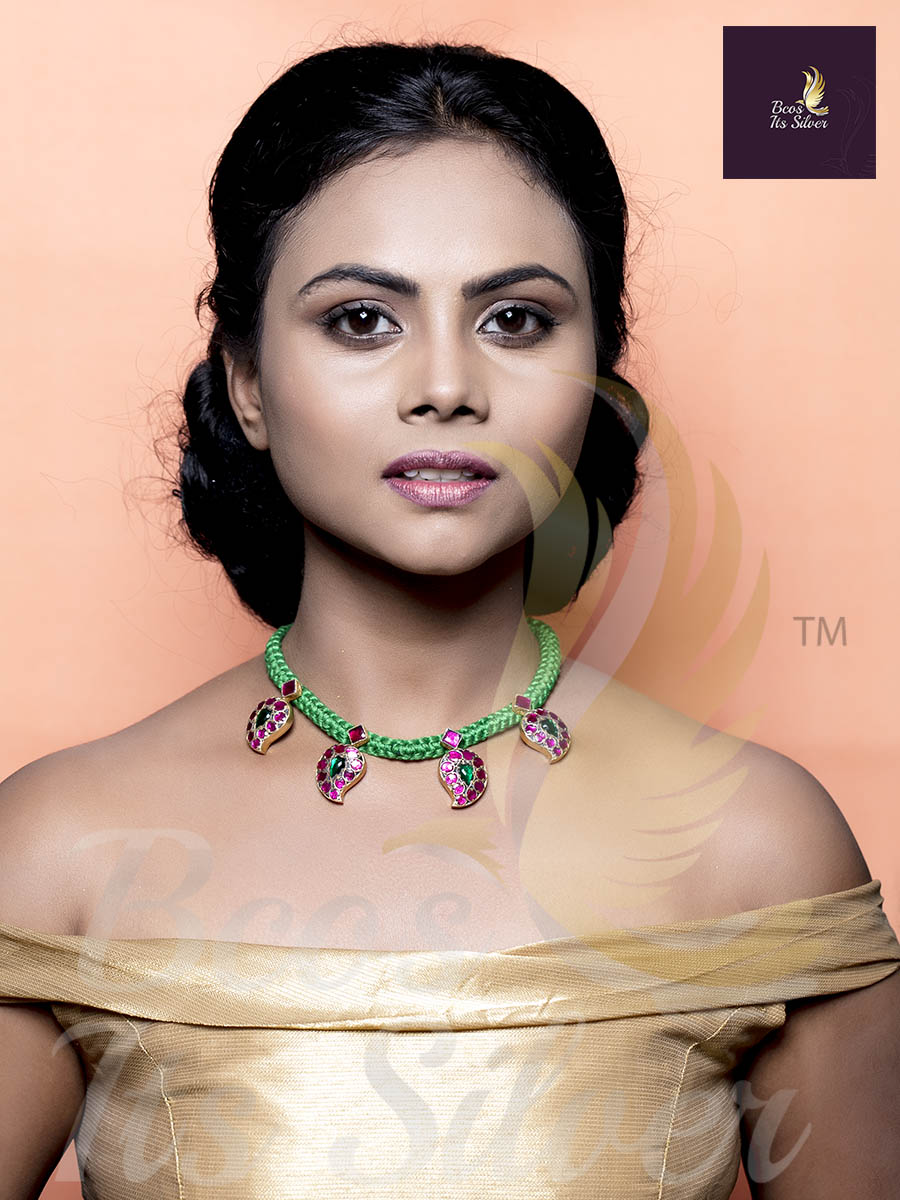 This thread necklace with ruby studded motifs is absolutely elegant. Wear it your kitties and get together and flaunt your style.
14) Kanti Style Thread Necklace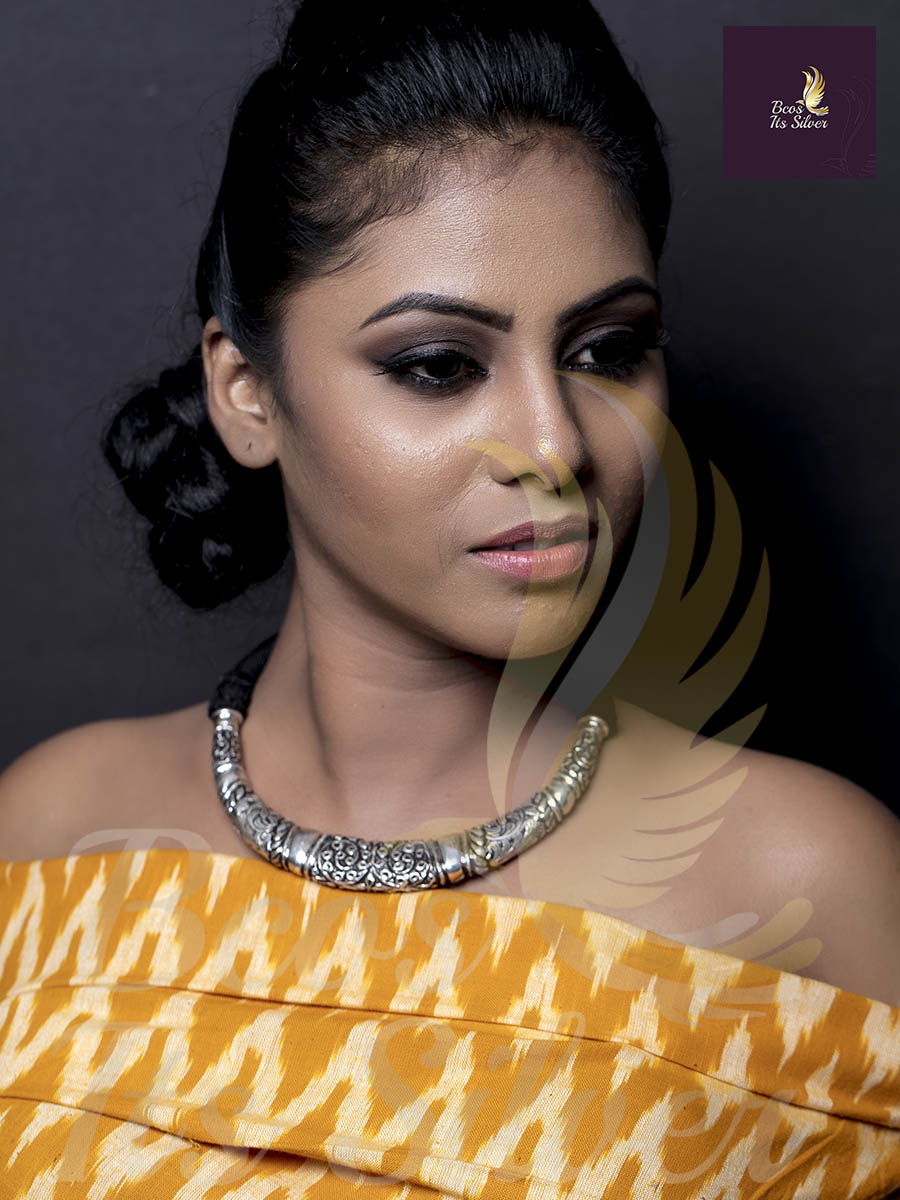 This Kanti style thread necklace can be called as the perpetually trending necklace. It is one of the elite necklace designs– a woman would love to wear.
15) Three Layer Beaded Necklace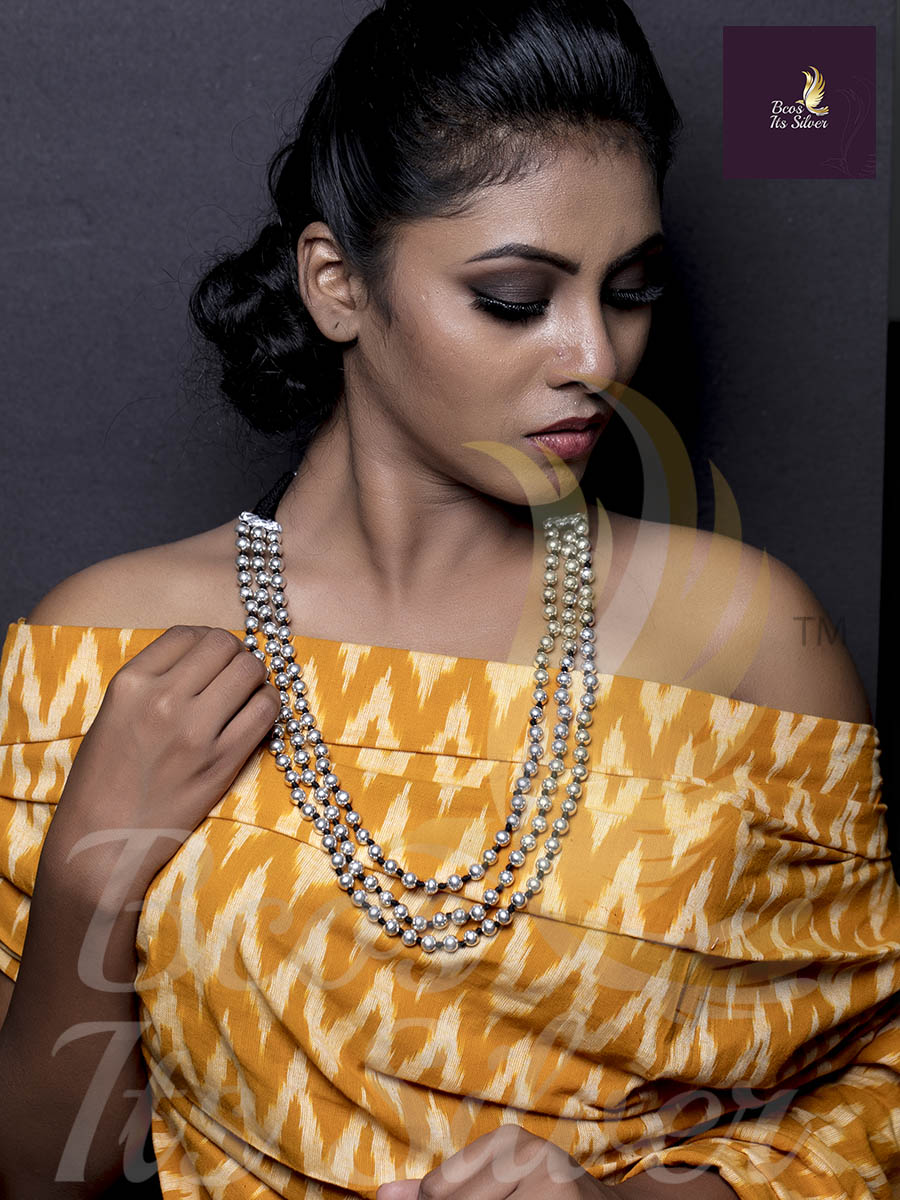 The three layered necklace loosely fitted around the neck with beads is joined together by a thread. With the three loose chains, it looks all the more exclusive. This will complement your outfits well.
16) Glass Thread Necklace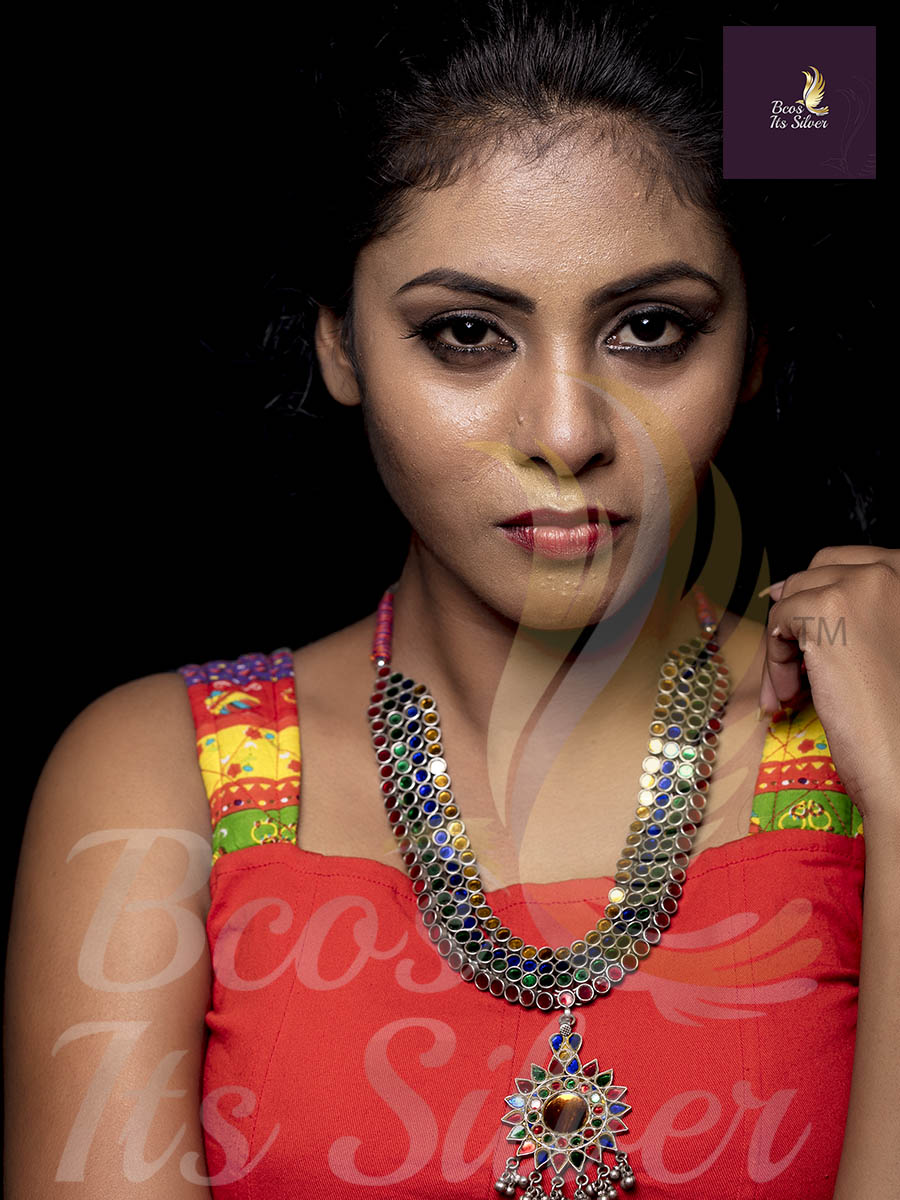 When attending functions at the house or friends' or relative's place, this glass thread necklace would be the best one to wear. Not only will this highlight your persona but also make you look like a lady with a class.
17) Threaded Red Glass Choker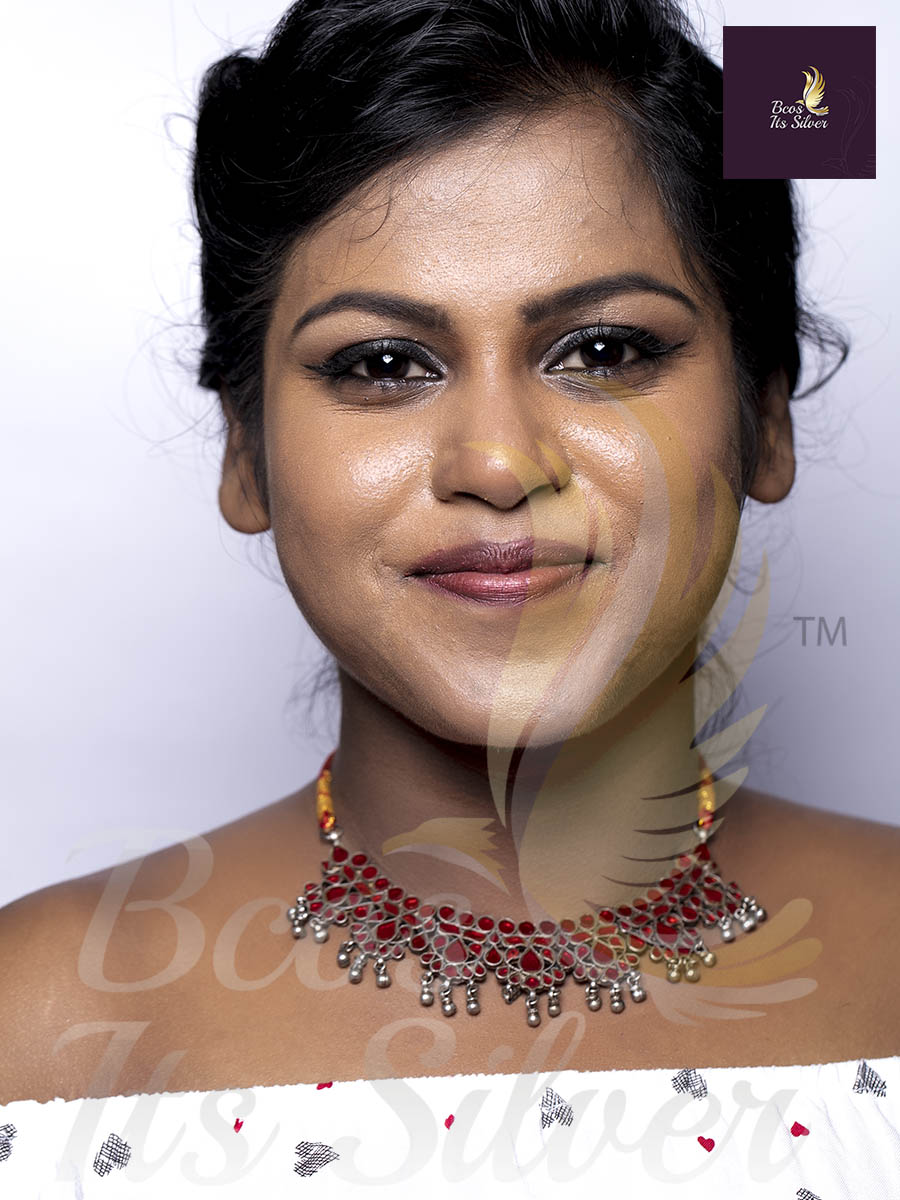 The threaded red glass choker necklace is one to pick if you like colorful jewelry. The brilliantly designed choker with glass work is a distinctive ornament.
18) Black Antique Ball Choker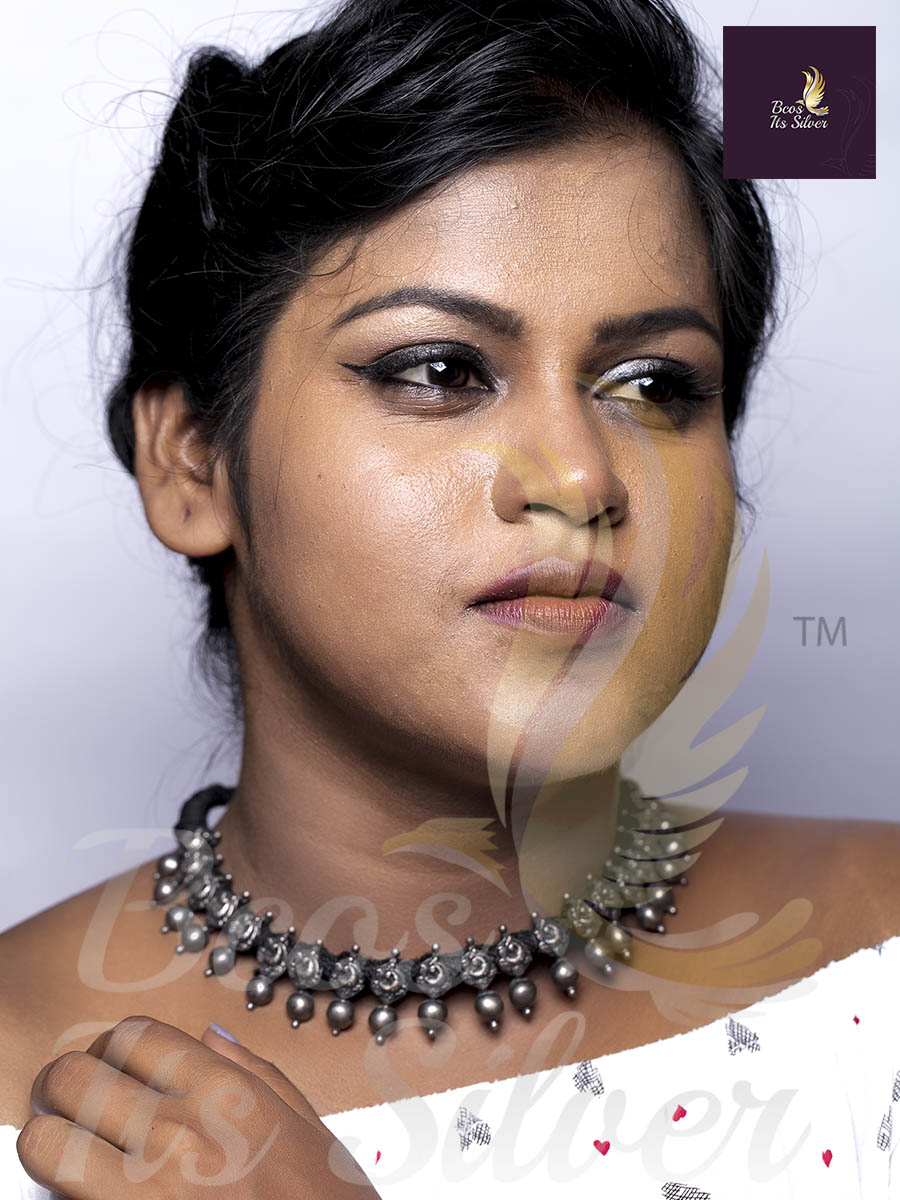 The black antique balls set around the choker, is a creative piece of art. Additionally, the design is catchy and will be noticeable in a crowd.
19) Ruby Emerald Thread Necklace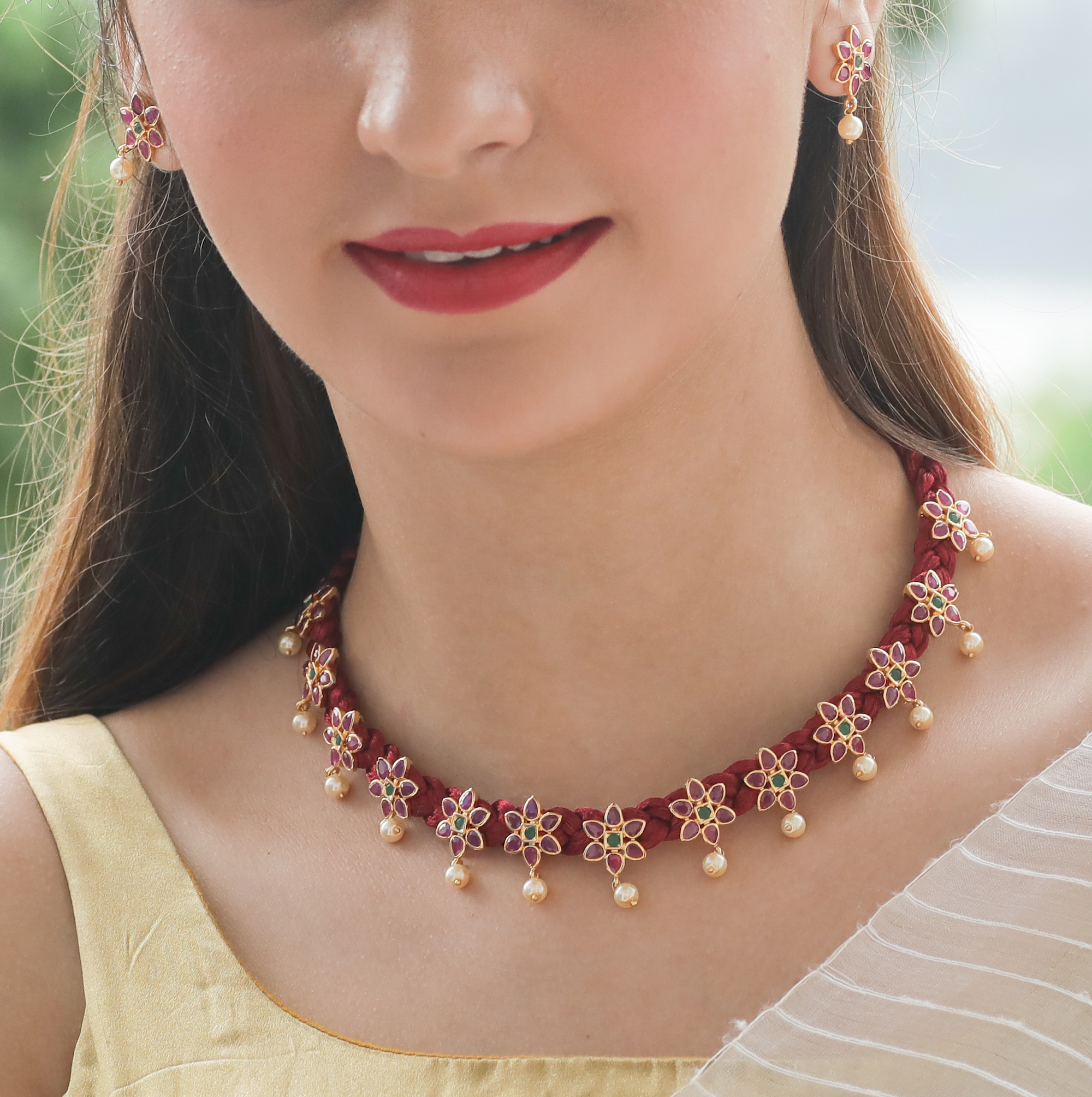 The ruby emerald thread necklace will give your outfit a fabulous appearance. The red and green colored beads around the thread give a highlighted look. Anybody, who wears it, would stand apart in the crowd.
20) Stone Thread Necklace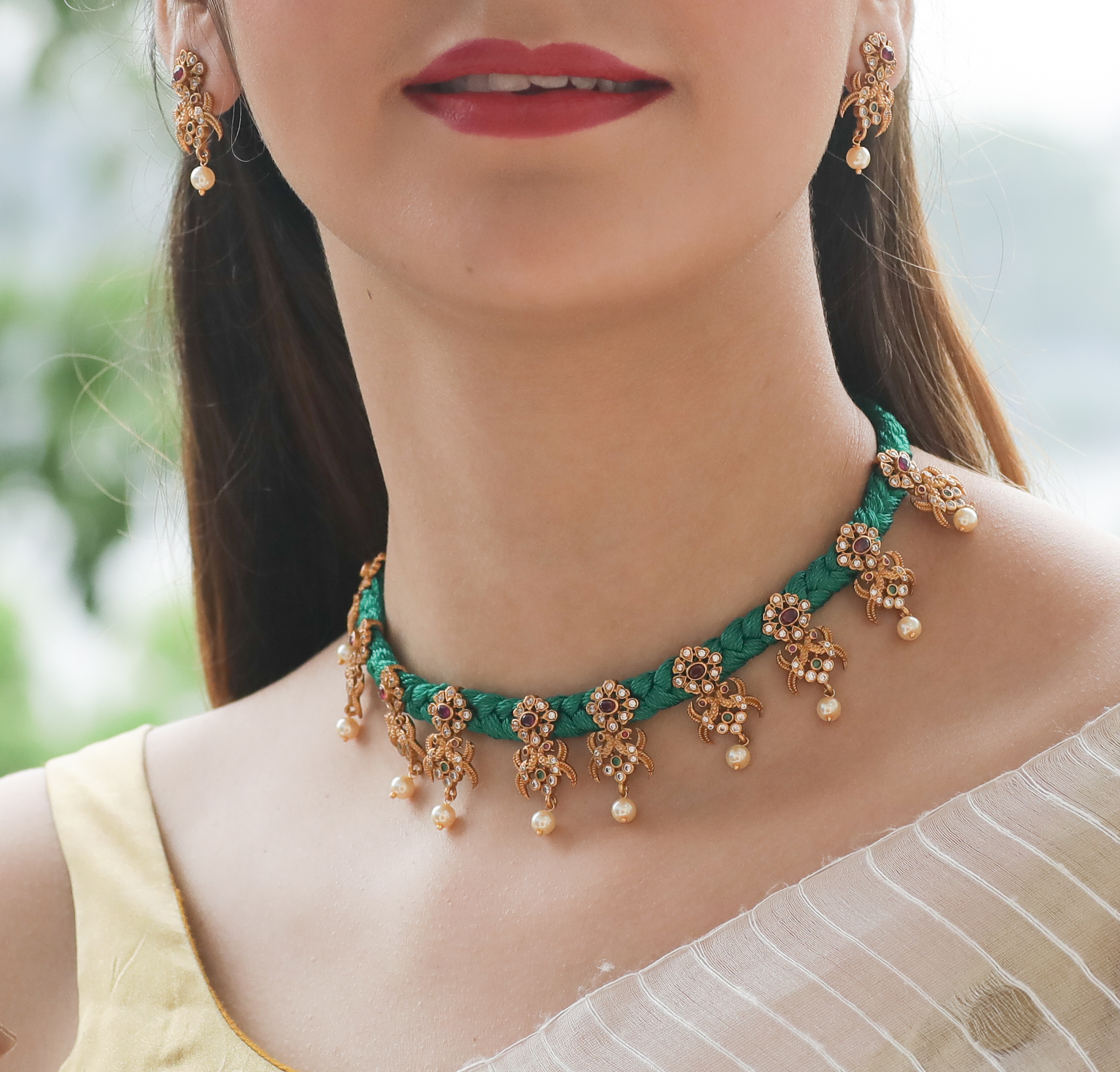 The stone thread necklace is an urban-outfitter ornament to be worn. The stone work is also done very beautifully. This necklace would go with Indian attire very well.
21) Matte Finish Thread Necklace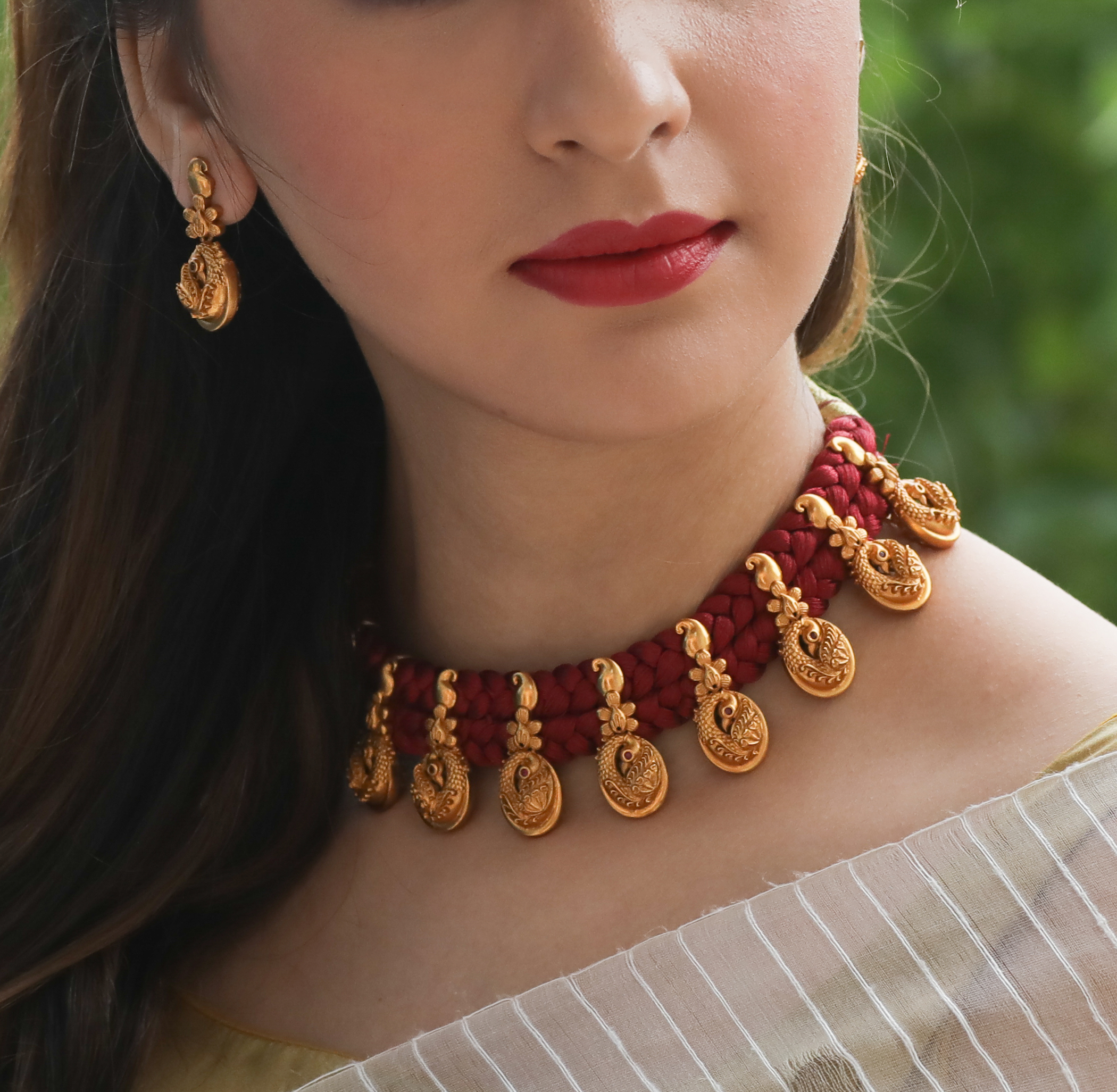 The thread necklace gives a unique look because of the matte finish and when worn along with a saree or suit would give a beautiful look. It's one of the must-have pieces in a lady' jewelry closet.
Thus, this list sums up the best options of the most beautiful thread necklaces that you will find around. From sassy ones to traditional, from the heavily designed ones meant for the traditional wear to the plain designs, you have 21 options to choose from. At least, one of these will definitely lure you.
If you wish to buy these, below are the details where you can shop them from:
Seller Name: jaypore
Website : https://www.jaypore.com/
Seller Name: Nnazaquat Tribal Jewelry
Instagram: https://www.instagram.com/nnazaquat.in/
Website : www.nnazaquat.in
Seller Name : BCOS – Its Silver
Contact No: +91 90941 38036.
Email :artee.manifattura@gmail.com
Website: https://www.bcositssilver.com/
Instagram : https://www.instagram.com/bcos_its_silver/
Facebook: https://www.facebook.com/BCOSITSSILVER/
Address : Shop #1, Plot #102, 17th Cross Street, 6th sector, near MK Ahmed bazar, opp to ICICI bank, HSR Layout, Bengaluru 560 102.
Seller Name : Tarinika
Instagram : https://www.instagram.com/shoptarinika/
Facebook : https://www.facebook.com/ShopTarinika/
Website : https://www.tarinika.com
Whatsapp : +918621034913
Email : support@tarinika.com
Contact : +1 (832) 559-0132 (US)
Visit these sites to have a closer look at the designs and their specification. You might end up liking some designs on their websites too.
Also Read: